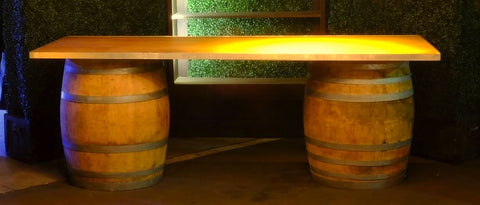 Wine Barrel Bar Kit
$ 150.00
Kit rents with two authentic french oak wine barrels and a handmade, rift-sawn white oak plank top created in-house; a true one-of-a-kind. The bar top measures 96" (8 feet) long and 36.5" (3 feet) wide. This kit is quite heavy and the barrels are bulky so delivery and setup is required.
SKU: WINEBAR
You may also like
Exclusive
$ 250.00
Light up the night with our premier bar back unit, commonly rented with the Wine Barrel Bar Kit. Put your top-shelf liquors and libation offerings in the foreground so guests can select their faves. Matches our Rustic / Industrial loveseats exactly, but with a boxwood hedge twist. This is a true original, designed and built in house.
Note: Unit is extremely heavy and tall; must be delivered and placed on level ground.
More Details →

$ 24.00
165 quart capacity fits approximately 288 typical size aluminum cans stacked on top of each other or 122 lbs of ice. This cooler should be lifted by two people - especially when full!
More Details →
$ 6.00
Classic and practical ice tub used for cooling drinks or food that can be worked in with any decor.
More Details →
$ 2.50
Used for safely scooping ice from ice maker, ice caddy, etc.
More Details →