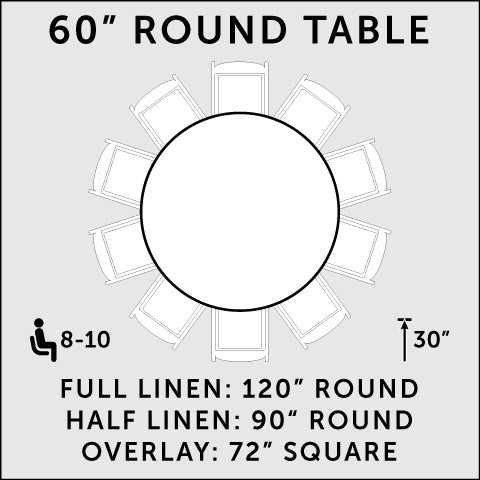 60" Round Table
$ 10.50
Dimensions: 60" across x 30" high
The proper linen for this table is a 120" round, which falls perfectly to the floor on all sides. We can also use a 120" Garden Linen which has a sewn slit in the center to accommodate an umbrella through the middle of the table. It's always an option to save a little on linen costs too - especially if you're having an informal event or festival. If don't mind the linen hanging short, try a 90" round.
We suggest a 72" over top of the base linen which will make a diamond shape; the points will hang either 3" short of the floor giving you the chance to mix-and-match colors when creating your event.
The 60" round table is the most popular round table available for rent and is usually used for dining. We suggest 8 to a table for formal events with large place settings (lots of glasses, bread baskets, large centerpiece, pre-set dessert, et cetera). For casual events with a single plate, fork, and knife, you can seat 10.
SKU: 60RND